Commercial and Residential Carpet Cleaning in Buffalo NY
Our customer appreciation promotion is back!
You can receive up to 20% off your residential carpet cleaning and
up to 20% off upholstery cleaning until April 30, 2018.

(716) 537-2530

---
_Get a deep professional carpet cleaning by static attraction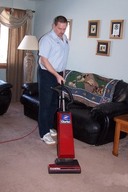 Static attraction may seem extremely complex, but it is a rather simple force of nature. Our carpet cleaning machine uses its motor to spin a rotary cleaning pad. The bristles on the pad then separate any dirt from the carpet fiber. This dirt then statically clings to our carpet cleaning pad and hence removed from your carpets.
Our signature Roto-Static Carpet Cleaner is Eco-Friendly. D-Limonene
is the main component and is extracted from citrus fruits such as lemons, limes, and oranges. The natural properties of this cleaner helps break apart tough carpet stains.
Tired of those pesky pet stains and odors? Our carpet cleaning system is also pet friendly. It is excellent at removing those stinky pet stains. Combine a good cleaning with our Pet Odour Eliminator enzyme treatment and your carpet will be smelling anew.
With the Roto-Static System:
Preparation is minimal - your VIP technician will move most furniture, vacuum, and rake your carpet.
No shampoo is used - this means no oily sticky residue which promotes rapid re-soiling, this means your carpets stay clean longer!
Very little water is used - we guarantee there will be no carpet shrinkage, split seams or mildew.
Your carpets dry within a few hours - results prove that Roto-Static carpet cleaning normally dries completely in one to two hours. Your business wont have to stay closed while we perform our commercial carpet cleaning service.
Removes difficult dirt - experience has proven time and again that Roto-Static carpet cleaning gives outstanding results; often removing dirt and stains left behind by other methods of cleaning.
No brutal brushing - The gentle pad massages your carpet and does not subject it to punishment of brutal brushing or scrubbing.
No hot water or Steam - Carpet fibers cannot be faded or damaged by excess heat
Quiet - Roto-Static carpet cleaning & upholstery cleaning systems will not disrupt people nearby.
---
---


VIP Cleaning & Carpet Services, Inc.
11074 Blanchard Rd. Holland NY
Phone: (716) 537-2530
---